From a young age, kids are introduced to screens and all the ways their little fingers can work to manipulate those screens. The result? Most parents are willing to admit their children can manage their smartphones and watches even better than they can.
Naturally, it was just a matter of time before companies realized this and started making smartwatches specifically for kids.
Today, you can find countless smartwatch options for little ones. Some provide simple distractions and games, while others are equipped with communication and tracking options to keep tabs on your child even when they're away from home. Most of these watches come equipped with apps meant to increase physical activity, and almost all are designed in fun, bright colors.
We tested seven popular smartwatches for kids to find one that was fun, simple to navigate, and packed with features both parents and kids could appreciate. Spoiler alert: It's not the Apple Watch SE, which turned out to not be a great option for kids. In the end, there was no contest: The T Mobile SyncUp Kids (available at T-Mobile) blew the others out of the water with its features, design, and durability.
If you have younger kid who doesn't need a watch that includes any GPS tracking capabilities but does need something for telling time and playing games, the VTech KidiZoom Smartwatch (available on Amazon), fits the bill.
Here are the best kids smartwatches we tested ranked, in order:
T-Mobile SyncUp Kids
XPlora X5 Play
GizmoWatch2 by Verizon
Apple Watch SE
Vtech KidiZoom Smartwatch
Spacetalk Adventurer
Little Tikes Tobi Robot Smartwatch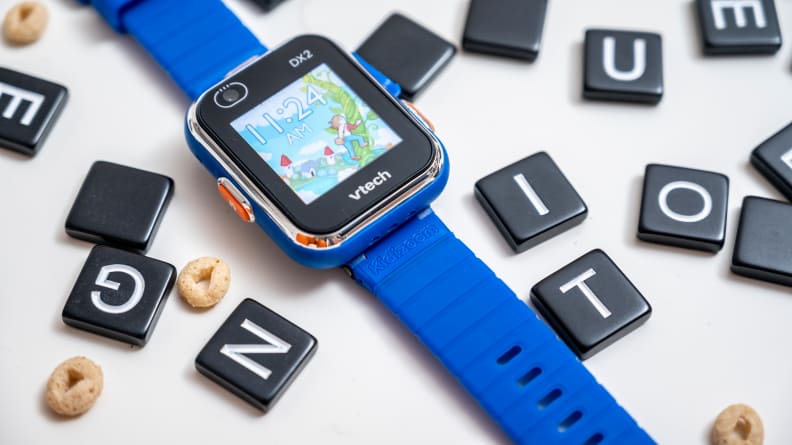 How We Tested Smartwatches for Kids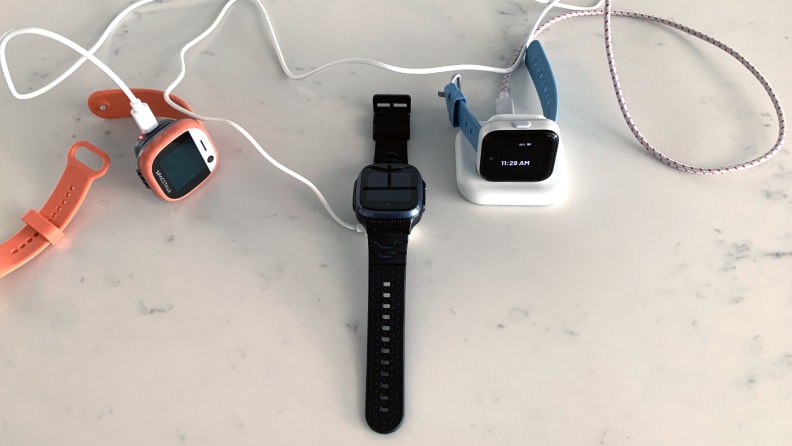 The Testers
I'm Leah Campbell and I've been working as a freelance journalist in the health and tech fields for nearly eight years now. I've been a contributor to Reviewed for the last two years, and I am a Forbes contributor reporting on the intersection of health and parenting. I'm also mom to my 7-year-old daughter who served as my testing partner in trialing kid smartwatches for this review.
And I'm Anna Lane. I was a comedian and freelance comedy writer for many years before joining the staff at Reviewed as the Parenting editor. I live in Los Angeles with my husband and our two children: a son who is 9-and-a-half, and a daughter who is 8. Yes, they are 18 months apart, and no, it was not planned that way. My reviews are informed by my life as a working mom who wishes she had the ability to be in two places at once.
The Tests
All of our kids spent about a week with each of the watches we tested. They wore them daily, taking them along to school and their various activities, and giving us their general opinions on how fun or engaging the watches were from their point of view. We analyzed the watches for durability, battery life, and overall comfort. We further tested the watches that came with parental control apps, communication options, and GPS tracking to determine how accurate, accessible, and easy to use each of those features were.
What To Know About Smartwatches for Kids
How Will The Smartwatch Be Used?
The biggest thing to consider when choosing a smartwatch for your child is what your overall goals are.
Does your child just want a smartwatch like yours to play with? Are you hoping to help them be more responsible with a watch they can tell time with and set reminders through? Or are you looking for a safety device that will allow you to communicate directly with your child throughout the day, and pinpoint their location when necessary?
There are child smartwatch options to fulfill each of those goals, it's just a matter of knowing what it is you are hoping to achieve with this particular purchase.
Consider Comfort
If you want your child to wear this watch throughout the day, it needs to be comfortable on their wrist. Most smartwatches designed for kids come with smooth rubber bands that fit quite comfortably, but pay attention to those made from different materials.
Durability Definitely Matters
Considering the fact that your child will have this watch on for hours every day, and that children are often playing in puddles, jumping from rocks, and engaging in other activities that could cause harm to a piece of technology, look for a watch that is built to stand up to a child's way of living.
Does it have a waterproof rating? Is the screen crack-proof? What type of guarantee does the manufacturer make about how long the watch will last?
All of these things should impact your overall decision.
Kids Care About Entertainment
A smartwatch for your child won't do much good if your child never wants to use it.
Make sure the watch you choose is one that comes with plenty of fun apps and customization options to keep you child engaged and interested beyond just the first day the package is opened.
---
Other Smartwatches for Kids We Tested
More Articles You Might Enjoy
.